Duurzaam bouwen
Verkorte versie
De kern is gemaakt van hout en PET-kern (gerecyclede plastic flessen)
26% bio-inhoud infusie-epoxy
Verrijkte basaltvezel (volledig recyclebare en herbruikbare voetafdruk met zeer lage koolstofproductie)
Natuurlijke vlasvezel
Duurzaam geproduceerde glasvezel en koolstofversterking
Gebruikte harsen
PRO-SET bio-gebaseerde infusie-epoxy van Wessex Resins and Adhesives
De kern van de sandwich
De unieke kern is niet alleen recyclebaar, maar is gemaakt van 100% gerecyclede materialen, zoals PET-verpakkingsafval na consumptie.
De kernen hebben DNV-GL goedkeuring, uitstekende schadetolerantie.
Uitstekende weerstand tegen materiaal vermoeidheid (hoge drempel> 60%).
Gesloten cel: beperkte water- en harsabsorptie, geen corrosie en geen degradatie na verloop van tijd.
Milieuvriendelijk (100% recyclebaar). DNV en GL gecertificeerd.
Biota Flax
200 g / m2 2 × 2 Twill Biota Flax biedt hoge prestaties, gekoppeld aan het verwerkingsgemak dat normaal gesproken wordt geassocieerd met met glas versterkte materialen.
De materialen maken gebruik van low-twist technologie om een ​​combinatie van duurzaamheid, prestaties en verwerkbaarheid te bieden. In vergelijking met glasvezelcomposieten biedt Biotex Flax minder gewicht, verbeterde impact op het milieu, trillingsdemping, vergelijkbare specifieke stijfheid en veiliger hantering,
Basaltvezels
worden geproduceerd van Basalt Rocks en worden als zodanig beschouwd als natuurlijke vezels.
Vulkanische vezels hebben een diameter tussen 9 en 13 micrometer en worden op dezelfde manier geproduceerd als glasvezel.
Er is echter het voordeel dat basaltvezels geen additieven nodig hebben en daarom minder energie verbruiken om te produceren.
Basalt vulkanische vezel
Diëlektrische constante equivalent aan glasvezels
Mechanische prestaties die helpen om aan de eisen van lichtheid te voldoen.
Basalt Fiber-producten zijn zeer goed bestand tegen UV.
Basaltvezelproducten zijn bestand tegen zout water.
Basalt Fiber-producten zijn groen en volledig recyclebaar.
Basaltvezel, er is geen risico op galvanische corrosie.
Basalt Fiber-producten hebben een hoge slagvastheid.
Basalt Fiber-producten hebben een goede schokabsorptie.
Basalt Fiber-producten hebben een betrouwbare weerstand tegen vermoeidheid.
De treksterkte is vergelijkbaar met de treksterkte van Carbon Fibers.
Hoge slagvastheid dankzij een twee keer betere rek in vergelijking met koolstofvezels.
Basaltvezel heeft een matig gewicht.
Basaltvezelproducten hebben een zeer hoge modulus in vergelijking met in de handel verkrijgbare glasvezels.
Dankzij onze meervoudige dimensionering hebben de basaltvezels een goede bevochtigbaarheid en infusie door organische matrices.
Basaltvezelproducten hebben een zeer hoge hittebestendigheid met een uitstekende dimensionele stabiliteit tot 740 ° C (geen krimp).
Er is geen risico op bimetallische (galvanische) corrosie door contact met aluminium of staallegeringen.
Basalt Fiber is groen gedurende de hele levenscyclus (duurzaam en recyclebaar).
Aandrijving en trimmen
AANDRIJVING
De Pulse58  maakt gebruik van een innovatieve, hydrodynamisch geoptimaliseerde naafloze aandrijving.
Deze heeft de nieuwste controle- en connectiviteitstechnologieën.
We zijn dan ook trots dat we de RAD Propulsion e-30 elektrische aandrijving kunnen leveren aan de nieuwe Pulse RIB.
Belangrijkste kenmerken
Smart – cloud-gebaseerde data-analyse stelt de RAD Propulsion e-30 in staat zichzelf te controleren en geeft u vertrouwen in bereik en betrouwbaarheid.
Veilig – zonder externe roterende messen verbetert de hubloze RAD aandrijving e-30 de veiligheid.
Nulemissies tijdens de werking, soepele werking, betrouwbaarheid en weinig geluid.
Het is niet nodig om benzinetanks te vullen.
Verbonden (deel uw locatie, volg uw batterijgebruik, controleer de prestaties en optimaliseer uw ervaring) met 4G en Bluetooth-connectiviteit met de web- en mobiele app.
Meer informatie
Fly-by-wire
RADtag: het unieke programmeerbare killkoord biedt niet alleen veiligheidsfuncties voor man overboord, maar biedt ook de mogelijkheid om verschillende limieten in te stellen voor verschillende gebruikers.
Bereikvoorspelling: de puck-interface-eenheid kan worden verbonden met een externe kaartplotter of RAD mobiele app om informatie zoals systeemstatus, modi en resterende bereik weer te geven.
RAD ontwikkelt een innovatieve displaytool die u tijdens de vaartocht meer inzicht geeft.
De Pulse RIB maakt gebruik van de allernieuwste … Hyperdrive-batterijen
Trimmen / intrekken: een elektrisch bediend trim / tilt-systeem zorgt ervoor dat de aandrijving tijdens gebruik kan worden getrimd, maar ook dat de aandrijving horizontaal kan worden gebracht.
RAD heeft samengewerkt met Pulse om een ​​nieuwe integratieoplossing voor deze RIB te ontwikkelen die zorgt voor toonaangevende dekruimte, toegang, laag zwaartepunt en gebruiksgemak.
de RAD-puck biedt connectiviteit en tracking van de RAD-drive. Voor het beheer van een vloot RIB's lanceren we verschillende tools om operators te helpen bij het optimaliseren van het opladen, de betrouwbaarheid en de levensduur van de batterij.
Stroomvoorziening
ACCUPAKKET
Pulse58 maakt gebruik van een pakket krachtige lithium-ionbatterijen.
Deze komen van een autoleverancier die zijn sporen heeft verdiend de accu's zijn verzegeld en vermarineerd tot IP54.
Met een indrukwekkende 57KWh (in standaardconfiguratie bij lancering) op 104V, is het accupakket betrouwbaar voor 2000 laadcycli bij + 85% en worden individueel geregeld, geconditioneerd en beheerd door de RADlink.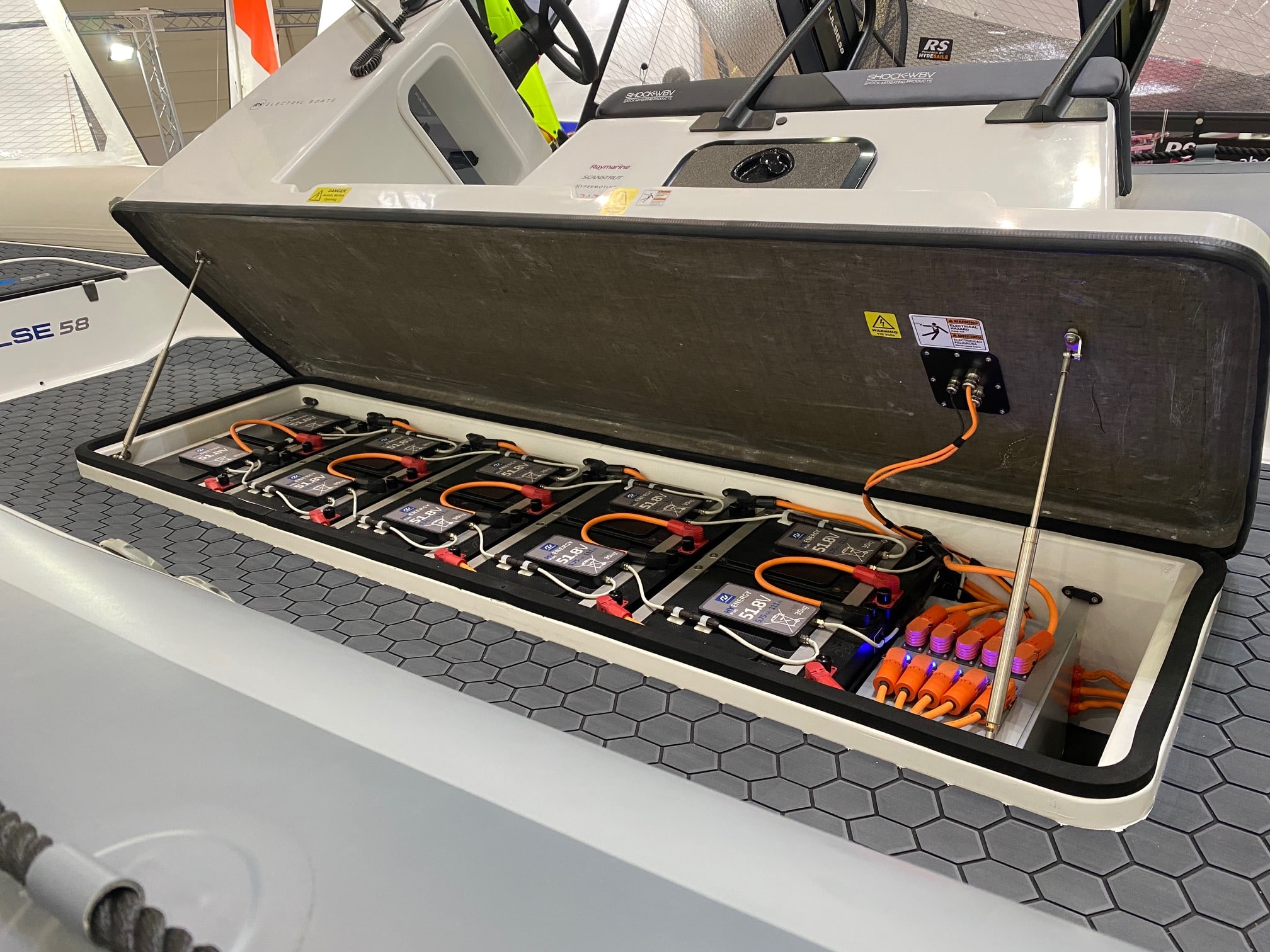 Hyperdrive GEN4 14-Cell (52Vnom) Lithium-Ion Modular Pack
| | |
| --- | --- |
| Voltage Nominaal | 51.8V |
| Voltage bereik Min/Max | 43.4V/58.1V |
| Laadstroom | 132A maximum, de-rated by BMS depending on cell voltage/temperature |
| Ontlaading continu | 130A |
| Maximum Capaciteit | 5.76kWh/111.4Ah |
| Maximum energie dichtheid | 164Wh/kg |
| Bruikbare capaciteit | Limited to 90% by BMS to improve cell life |
| Afmetingen | W: 243 x L: 352 x H: 300.5mm |
| Gewicht | 35kg |
| Bevestigingspunten |  met schroefdraad voor gemakkelijke, veilige verbinding |
Navigatie
NAVIGATIE
De PULSE58 maakt gebruik van de Raymarine Axiom 7 "Kaartplotter
Een krachtig nieuw multifunctioneel navigatiesysteem van Raymarine. Met ingebouwde RealVision 3D ™ sonar, het geheel nieuwe LightHouse 3-besturingssysteem en razendsnelle quad-core prestaties, zal Axiom uw tijd op het water transformeren. Meer te weten komen…
De Ray53-radio van Raymarine is klein van formaat maar groot in functies en prestaties. Ray53 is een full-function marifoon op zee met Class D Digital Selective Calling (DSC) en een ingebouwde GPS-ontvanger.
Programmeer eenvoudig het MMSI-nummer van uw boot in de Ray53 en profiteer onmiddellijk van de verbeterde bel- en veiligheidsfuncties van DSC.
Partners
RAD Propulsion – Electric Drive
Raymarine – Electronics
Hyperdrive – Batteries
Hypermotive – Automotive Electronics

Materials
Short version
All core is made out of wood and PET Core (recycled Plastic bottles)
26% Bio content infusion epoxy
Enriched basalt fiber (full recyclable and reusable very low Carbon manufacture footprint)
Natural Flax fiber
Sustainably sourced Glass fiber and carbon reinforcement
Resin
'PRO-SET bio based infusion epoxy from Wessex Resins and Adhesives -manufacturers of ENTROPY RESINS bio based epoxy formulations and WEST SYSTEM Epoxy. 26% bio content  resin
Foam
This unique structural core is not only recyclable, but is made out of 100% recycled materials – post-consumer PET packaging waste. The cores have DNV-GL approval, Excellent damage tolerance.
Outstanding fatigue resistance (high threshold >60%).
Closed cell: limited water & resin absorption, no corrosion and no degradation over time.
Excellent mechanical properties.
Environmentally friendly (100% recyclable).
DNV and GL certified.
Flax
Biota Flax 200 g/m2 2×2 Twill Biotex Flax provides high levels of performance, coupled with the ease of processing normally associated with glass-reinforced materials. The materials use low-twist technology to provide a combination of sustainability, performance and processability. Compared to glass fibre composites, Biotex Flax offers reduced weight, improved environmental impact, vibration damping, similar specific stiffness and safer handling,
Basalt Fibres
Basalt Fibres are produced from Basalt Rocks and as such are considered natural Fibres. Volcanic Fibres have a diameter between 9 and 13 Micrometers and are produced in a similar manner to Glass Fibre. There is however the advantage that Basalt Fibres do not require additives and therefore consume less energy to produce.
Basalt volcanic fibre
 A dielectric constant equivalent to glass fibers
The mechanical performances helping to meet the requirements of lightness.
Basalt Fiber products are very resistant to UV.
Basalt Fiber products resist in salty water.
Basalt Fiber products are green and fully recyclable.
Basalt Fiber, there is no risk of galvanic corrosion.
Basalt Fiber products have a high impact resistance.
Basalt Fiber products have a good shock absorption.
Basalt Fiber products have a reliable fatigue resistance.
The tensile strength is similar to Carbon Fibres' tensile strength.
High impact resistance thanks to a two times better elongation compared to Carbon Fibres.
Basalt Fiber has a moderate weight.
Basalt Fiber products have a very high modulus compared to any commercially available Glass fibres.
Thanks to our multiple sizing, the fibres Basalt Fiber have a good wettability and infusion by organic matrices.
Basalt Fiber products have a very high heat resistance with an excellent dimensional stability up to 740°C (no shrinkage).
There is no risk of bimetallic (galvanic) corrosion from contact with aluminum or any steel-alloys.
Basalt Fiber is green throughout its entire life cycle (sustainable and recyclable).
Propulsion
PROPULSION
Utilising an innovative, hydrodynamically optimised hubless drive with the latest in control and connectivity technologies we are excited to be providing the RAD Propulsion e-30 electric drive to the new Pulse RIB.
Key features
Smart – cloud based data analysis enables the RAD Propulsion e-30 to monitor itself and give you confidence in range and reliability.
Safe – with no external rotating blades the hubless RAD Propulsion e-30 significantly improves safety and resilience to rope and weed entanglement.
Electric – our drives are electric providing zero-emissions in operation, smooth running, reliability and low noise. No need to fill up petrol tanks.
Connected – share your location, track your battery usage, monitor performance and optimise your experience with 4G and Bluetooth connectivity to the web and mobile app.
Further Information
Fly-by-wire: With a novel electrically actuated steering system coupled to the high resolution thrust and speed control the e-30 can provide high levels of driver assist such as heading hold, position hold, lateral vectoring and more.
RADtag: the unique programmable emergency lanyard not only provides man overboard safety features it also allows for different performance limits to be set for different users and an innovative geo-fence tool for setting limits and alarms.
Range prediction: the puck interface unit can be connected to a third party chartplotter or RAD mobile app to display information such as system health, modes and remaining range. RAD are developing an innovative display tool which will set new standards for reassurance that your trip can be completed safely with reserve battery capacity.
Battery Interfacing: the RAD drives can be connected to a range of batteries from selected partners. The Pulse RIB uses a state of the art……Hyperdrive batteries
Trim / Retract: an electrically actuated trim/tilt system allows for the drive to be trimmed during use but also for the drive to be raised to horizontal. RAD have worked with Pulse to develop a novel integration solution for this RIB which provides for class leading deck space, access, low centre of gravity and ease of use.
Fleet tracking: the RAD puck provides connectivity and tracking of the RAD drive. For the management of a fleet of RIBs we will be launching several tools to help operators optimise battery charging, reliability and life.
Battery
BATTERY
Pulse58 uses a bank of Powerful Lithium Ion batteries from a long proven automotive supplier that have been sealed and marinized to IP54.
Delivering an impressive 57KWh (in standard configuration at launch) at 104v, the battery bank is reliable for 2000 charging cycles at +85% and are individually controlled, conditioned and managed by the RADlink.
Hyperdrive GEN4 14-Cell (52Vnom) Lithium-Ion Modular Pack
| | |
| --- | --- |
| Voltage Nominal | 51.8V |
| Voltage Range Min/Max | 43.4V/58.1V |
| Charge Current | 132A maximum, de-rated by BMS depending on cell voltage/temperature |
| Continuous Discharge Current | 130A |
| Maximum Capacity | 5.76kWh/111.4Ah |
| Maximum Energy Density | 164Wh/kg |
| Useable Capacity | Limited to 90% by BMS to improve cell life |
| Dimensions | W: 243 x L: 352 x H: 300.5mm |
| Weight | 35kg |
| Mounting Fixtures | Threaded mounting points for easy, secure connection |
Navigation
NAVIGATION
The PULSE58 uses the Raymarine Axiom 7 "Chart Plotter
A powerful new multifunction navigation system from Raymarine. With built-in RealVision 3D™ sonar, the all new LightHouse 3 operating system, and blazing fast quad core performance, Axiom will transform your time on the water. Find out more…
Raymarine VHF Radio 50
Raymarine's Ray53 radio is small in size but big on features and performance. Ray53 is a full-function VHF marine radio with Class D Digital Selective Calling (DSC) and a built-in GPS receiver. Simply program your boat's MMSI number into the Ray53 and immediately benefit from the enhanced calling and safety features of DSC.
Partners
RAD Propulsion – Electric Drive
Raymarine – Electronics
Hyperdrive – Batteries
Hypermotive – Automotive Electronics